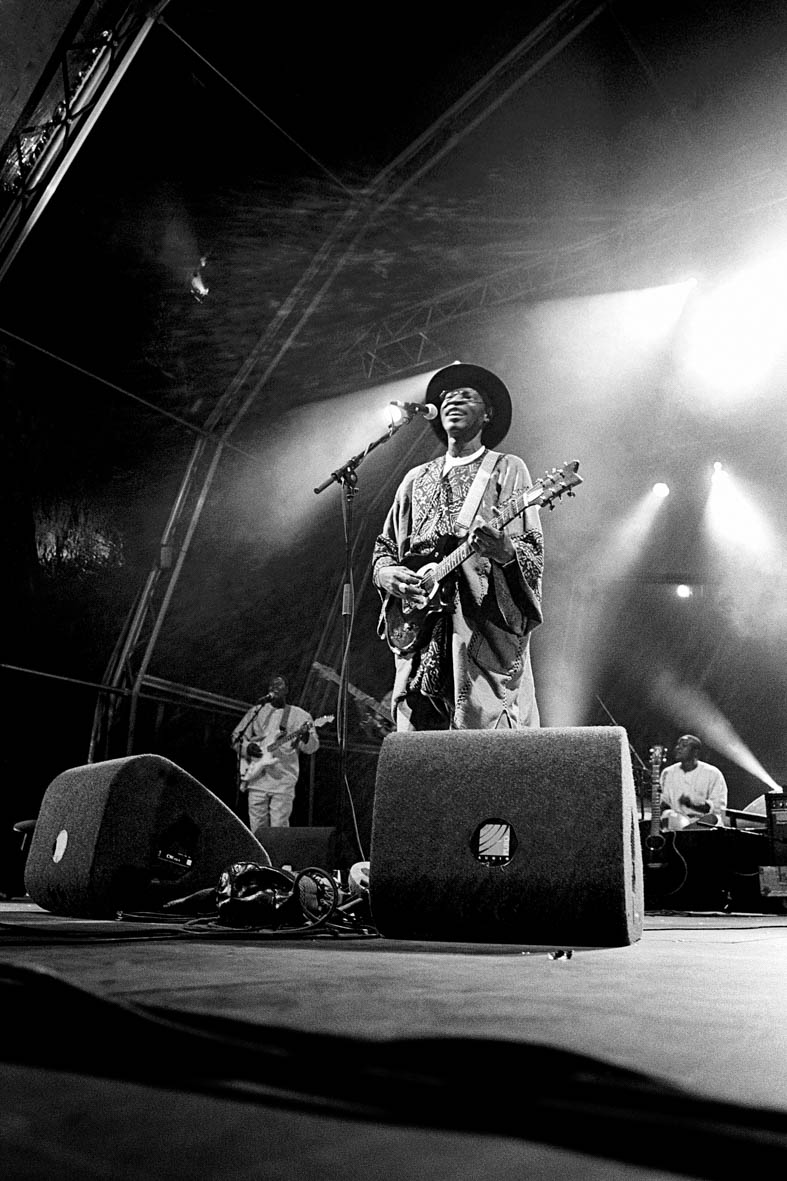 21 Apr

Mali Blues in Lisbon
Ali Farka Touré
Now that our hero Ali Farka Touré has passed on from mortality to immortality, I cherish even more my memories of his brilliant concert on 22 July 2005 in Lisbon. In the open air in Monsanto Park, high above Lisbon with broad views of the city and the River Tagus. Wine and a cigar at hand.
Being Dutch, and uncertain about how many people would attend, we arrived early and were able to choose the best seats. Being Portuguese, arriving rather late, other music lovers gradually trickled in. While the day before Manecas Costa from Guinea-Bissau had given it his all and played as if there was no tomorrow, now the pre-programme was an uninspiring Mozambican band which constantly called on the audience to buy their CDs.
Finally they disappear from the stage and the Keil do Amaral amphitheatre is now packed with some 12.000 Mali blues lovers. Suddenly there he is: the Mayor of Niafunké, energetic, elated, wearing his familiar brimmed hat. Making broad, wide-armed gestures to his immediately delirious audience. "Merrrci, merrci beaucoup, Lisbonne!". Within seconds Ali's band bursts into an extended intro of 'Diaraby', followed up by the equally great 'Karaw'. The sound thrills through us; the tempo high. For nearly 90 minutes Touré storms through his repertoire from the highlights of his collaboration with Ry Cooder to his new record 'In the Heart of the Moon'. Ali Magassa excels on guitar, backed up by the solid bass runs by Ouman Diallo, while the Portuguese audience sits on the edge of their seats. Touré is visibly pleasantly surprised and increases the tempo even more.
Suddenly, the stage is cleared and Tomani Diabaté, the star player of the kora, appears. Touré and Diabaté play four duets, with such harmony  and intensity that the audience is mesmerized. For two full hours Ali Farka Touré under a clear Portuguese starry sky. Who could ask for more? Applause for nearly 15 minutes, one encore 'Goye Kur' is his farewell to us. A broad wave of his hat, a bow, 'merrrci' and the party is over, half hour after midnight. At the back of the grounds the world music seller is completely sold out of his Touré stock.
What we did not know then was that Touré was already seriously ill and constantly accompanied by a nurse. The Mali Blues gig in Lisbon turned out to be his penultimate performance. The last one of all took place in Nice and was heartrendingly disturbed by skinheads…
With thanks to Jenny de Sonneville